About
You've always wanted your kid to play piano but never found a teacher who required the same work ethic you've tried to instill.
Obviously, you want your kid to enjoy making music…but not to have so much fun that she doesn't learn anything! You pride yourself on meeting your commitments and pushing your child to his full potential – and you want a teacher who'll do the same.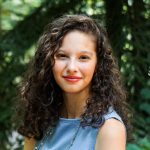 That's me – I'm Arielle Sukhram, and I teach beginning and intermediate piano to driven kids from families who prioritize growth and commitment. I have a Bachelor of Music in Piano Performance – and a love of progress, perseverance, and practice hacks.
How I Teach:
Ownership: Being able to take ownership of an aspect of your life is powerful. To feel and to know that YOU control your progress, growth, and future is an important part of developing independence, responsibility, and maturity. In my studio, your kid will develop musical ownership by co-creating weekly assignments to complete at home; using practice steps to improve pieces; and evaluating his own playing.
---
"When Sofia expressed her desire to study piano, I really wanted her to learn, not just to have fun without progressing. With Arielle, my daughter learns new things in each online lesson, and the results are amazing. She has fun, and she practices without being told. Arielle is supportive and caring, and she is doing an excellent job of making the process of learning to play piano fun! It's great to hear my daughter's progress, and I strongly appreciate Arielle's weekly feedback."

Elena, mom of Sofia
---
Discovery: Music provides the perfect "play-ground" (yes, pun intended!) to practice digging deeper. Not only do students make connections between previous concepts they've learned, they are also required to find and listen to a variety of music so we can explore together in lessons.
Perseverance: My dad always told me "there's no such thing as 'can't.'" Applying that saying to the daily challenges of music ingrained in me a tenacity that has kept me going through many challenges outside of music. Your kid will find in me a teacher who encourages her to keep struggling through a difficult song, provides different ways of practicing the song, and celebrates when she finally triumphs.
---
"Arielle has been so patient and encouraging with our daughter. She has guided Kali through struggling, practicing, and successfully playing. We've actually seen and heard her playing improve since beginning lessons with Arielle, and piano has been a great outlet for her!"

Christie, mom of Kali
---
Community: Learning from your peers is a skill: it requires a lot of humility and insight. Giving and receiving feedback requires kindness, understanding of the situation, and careful listening. Some kids struggle with having the confidence to say anything beyond "good job," while others may overwhelm their peers with information that's out of their league. Regular studio classes will give your child opportunities to develop the skills of learning and listening to others.
The person behind the piano:
I come from a Jamaican heritage and a homeschool upbringing. Translation: I have a fairly direct personality, strong work ethic, and a very independent mindset.
As a pianist, I've gone through…
the

singing-while-playing

stage
the

"I'm just not going to practice"

stage (thanks to my mom, I marched right back and practiced!)
the alternations between

"I'm an expert" and "oh no I'm awful at this"

stages
What keeps me going through all of these stages is – my love of music? Yes – sort of. I could listen to music anytime I wanted, but that didn't keep me playing. It was the joy of FINALLY nailing a piece after days or weeks of hard work from multiple angles. It was my family's emphasis on commitment and "no quit" attitude. And it was having something that was all mine – my creation and work and beauty of sound.
It's these things I love sharing with my students.